Showing gratitude can make you more optimistic. Studies show that those who express gratitude regularly appear to have a more positive outlook on life.
🙏🏽 Gratitude Practice 🙏🏽
A positive aspect of today's weather is. . .​​​​​​​ 
🌸 ====== 🌸
Anxiety in the workplace is a serious problem. What can you do to stay calm, rational, and productive when dealing with a stressful situation?
When U.S. Marine Corp Officer Jake D.'s vehicle drove over an explosive device in Afghanistan, he looked down to see his legs almost completely severed below the knee. At that moment, he remembered a breathing exercise he had learned in a book for young officers. Thanks to that exercise, he was able to stay calm enough to check on his men, give orders to call for help, tourniquet his own legs, and remember to prop them up before falling unconscious. Later, he was told that had he not done so, he would have bled to death.
If a simple breathing exercise could help Jake under such extreme duress, similar techniques can certainly help the rest of us with our more common workplace stresses. The combination of the Covid-19 pandemic and the battles for social justice have only exacerbated the anxiety that many of us feel every day, and studies show that this stress is interfering with our ability to do our best work.
I invite you to join the monthly online New Moon Breathwork Experience and be part of the breathwork revolution. Purchase your "Group Sessions" tickets here.
I invite you to join the monthly online New Moon Breathwork Experience and be part of the breathwork revolution. Purchase your "Group Sessions" tickets here: https://bit.ly/39FHFWS
So what makes breathing so effective? It's very difficult to talk your way out of strong emotions like stress, anxiety, or anger. Just think about how ineffective it is when a colleague tells you to "calm down" in a moment of extreme stress. When we are in a highly stressed state, our prefrontal cortex which is the part of our brain responsible for rational thinking is impaired, so logic seldom helps to regain control. This can make it hard to think straight or be emotionally intelligent with your team. But with breathing techniques, it is possible to gain some mastery over your mind. Research shows that different emotions are associated with different forms of breathing, and so changing how we breathe can change how we feel.
I invite you to listen to episode #32 of the Self-Care Goddess Podcast with Allan Miller "Self-Awareness: The Key To YOUR Wellbeing".
Every relaxation or meditation technique relies on breathing to calm the body and mind. Research into basic physiology and effects of applying breath-control methods lends credence to the value of monitoring and regulating our inhalations and exhalations. To get an idea of how breathing can calm you down, try changing the ratio of your inhale to exhale. This approach is one of several common practices that use breathing to reduce stress. When you inhale, your heart rate speeds up. When you exhale, it slows down. Breathing in for a count of four and out for a count of eight for just a few minutes can start to calm your nervous system. Remember: when you feel agitated, lengthen your exhales.
I am a certified breathwork facilitator and can guide you on how to use breathing as a metronome to distract attention from negative thoughts. Listen to my wellness video "Breathe In Ease For Stress Busting" here.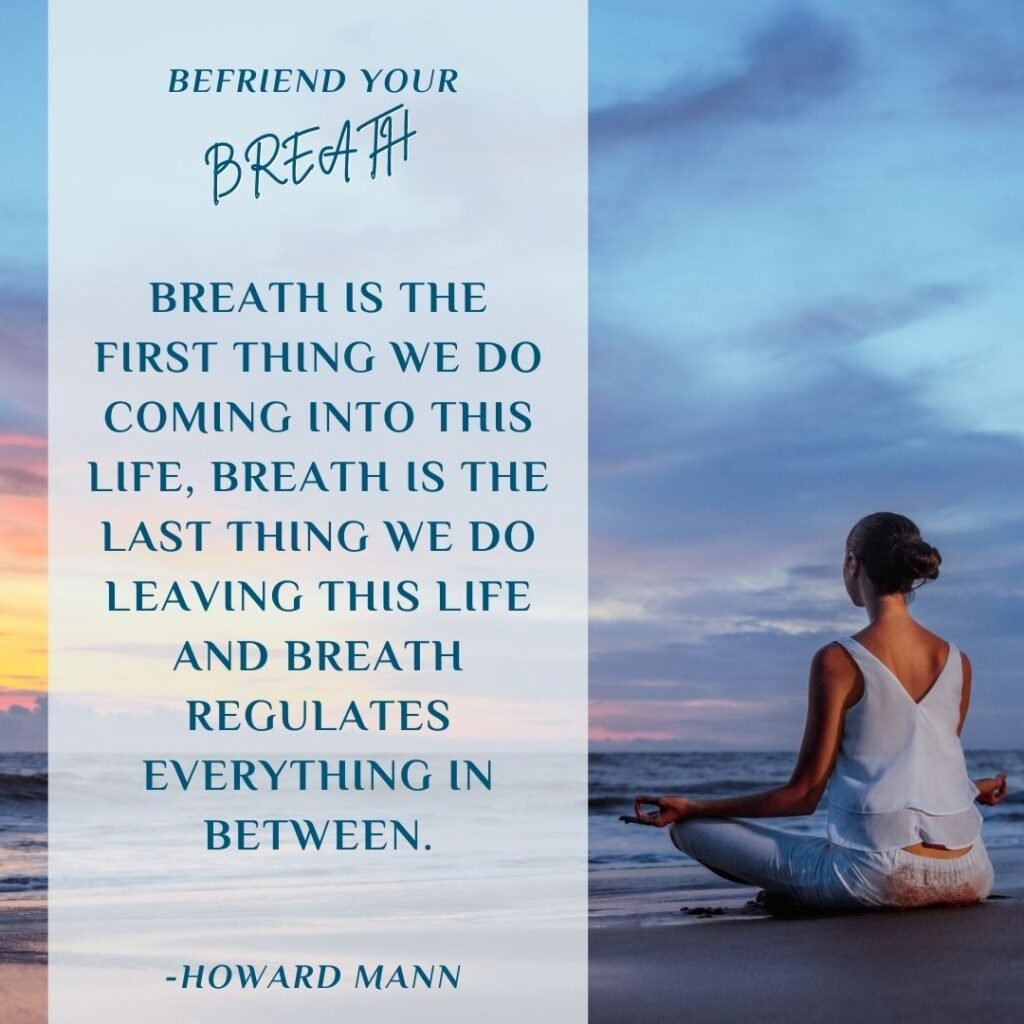 I am a certified Breathwork Facilitator. Connect With Me to know more on the amazing power of breathwork and learn some breathwork techniques than can help you better manage yourself.
References:
https://hbr.org/2020/09/research-why-breathing-is-so-effective-at-reducing-stress#:~:text=Changing%20the%20rhythm%20of%20your,contrast%20to%20the%20sympathetic%20nervous