How to incorporate a breathwork practice into YOUR daily routine?
Happy Self-Care Sunday! What are your self-care plans for this Sunday?

"As we express our gratitude, we must never forget that the highest appreciation is not to utter words but to live by them." John F. Kennedy 
What is 1 personality trait that you are grateful for? 
Yogis found through studying animals that the quickest breathers live the shortest and those that took the slowest, longest breaths live the longest. Over the years, a lot of work has been done investigating the many powers of breathwork and how it can affect us.
I invite you to read these studies that have explored the various benefits of breathwork:
A 2020 study from Yale University that explored the impacts of multiple wellness activities on the mental health of participants. The group of students that received the yoga, breathwork, and Pranayama sessions showed significant improvement when it came to depression, stress, overall mental health, mindfulness, and social connections.
Slow Breathing Improves Arterial Baroreflex Sensitivity and Decreases Blood Pressure in Essential Hypertension. A 2005 study from AHA Journals that provides detailed context on how slow breathing impacts blood pressure and cardiovascular functions. The results of the study proved that breathing exercises could be used to reduce blood pressure in those dealing with hypertension.
The Use of Breathing Exercises in the Treatment of Chronic, Nonspecific Low Back Pain: This 2017 study explored diaphragmatic breathing as a method of rehabilitation for those experiencing low back pain. The results proved breathing exercises are effective in improving lung health, back pain, and quality of life.
Now that you understand the importance of breathwork, you'll want to find ways to easily incorporate it into your daily routine. Here are some tips to help you easily begin a breathwork practice and start feeling the benefits:
Schedule a time(s): Plan one or more specific times a day when you want to do your breathing exercises. This will help you establish a commitment.
Start small: Begin your practice with the easiest techniques and breathe for only 2 to 5 minutes per session. You can increase the length of your sessions as you progress.
Set a reminder: It's easy to forget to do new things, so set a reminder in your calendar for each of your sessions to help you remember.
Take a break: If you're struggling to get through the exercises or are losing motivation, get up and take a break to do something else. Then come back and finish when you're ready.
Change it up: Try a variety of exercises to keep things exciting and find what works best for you.
Do what you can: Life can get hectic. If you miss a breathwork session, it's okay to stop and do a quick, easy exercise whenever you remember. This will still count as practicing and help you achieve the many breathwork benefits.
Here are some More & Less breathing guidelines (meme) that I have created.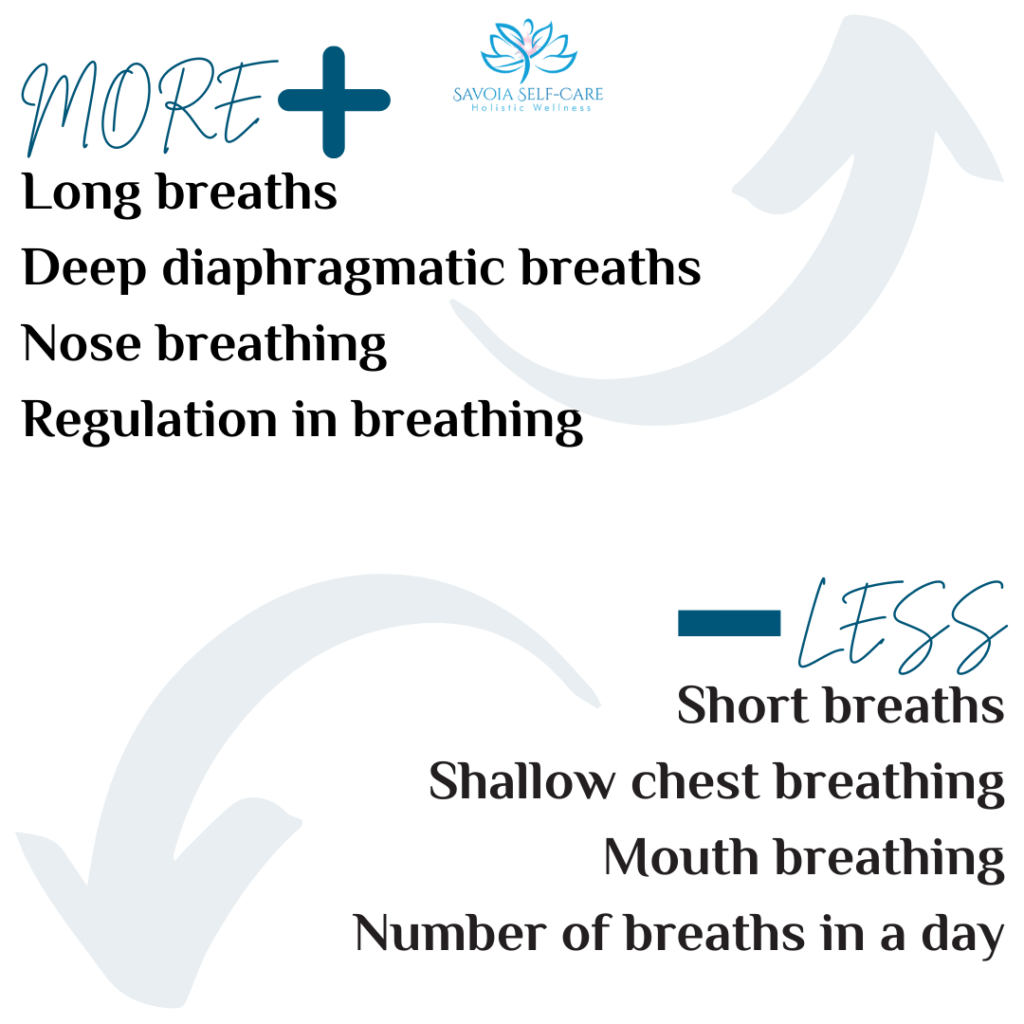 Also, check out my awesome conversation with Jennifer Stevenson, where we talked about how to celebrate your life's magnitude through your breath on episode #14 of the Self-Care Goddess Podcast.
Connect with me for a complimentary introduction call here to know more on how you can transform your body with the power of your breath and learn breathwork techniques that can help you better manage yourself to lead a high-vibrating, thriving and successful life.
I invite you to check out my YouTube channel and remember to hit the subscribe button for wellness videos to improve your health and wellbeing. 
References: